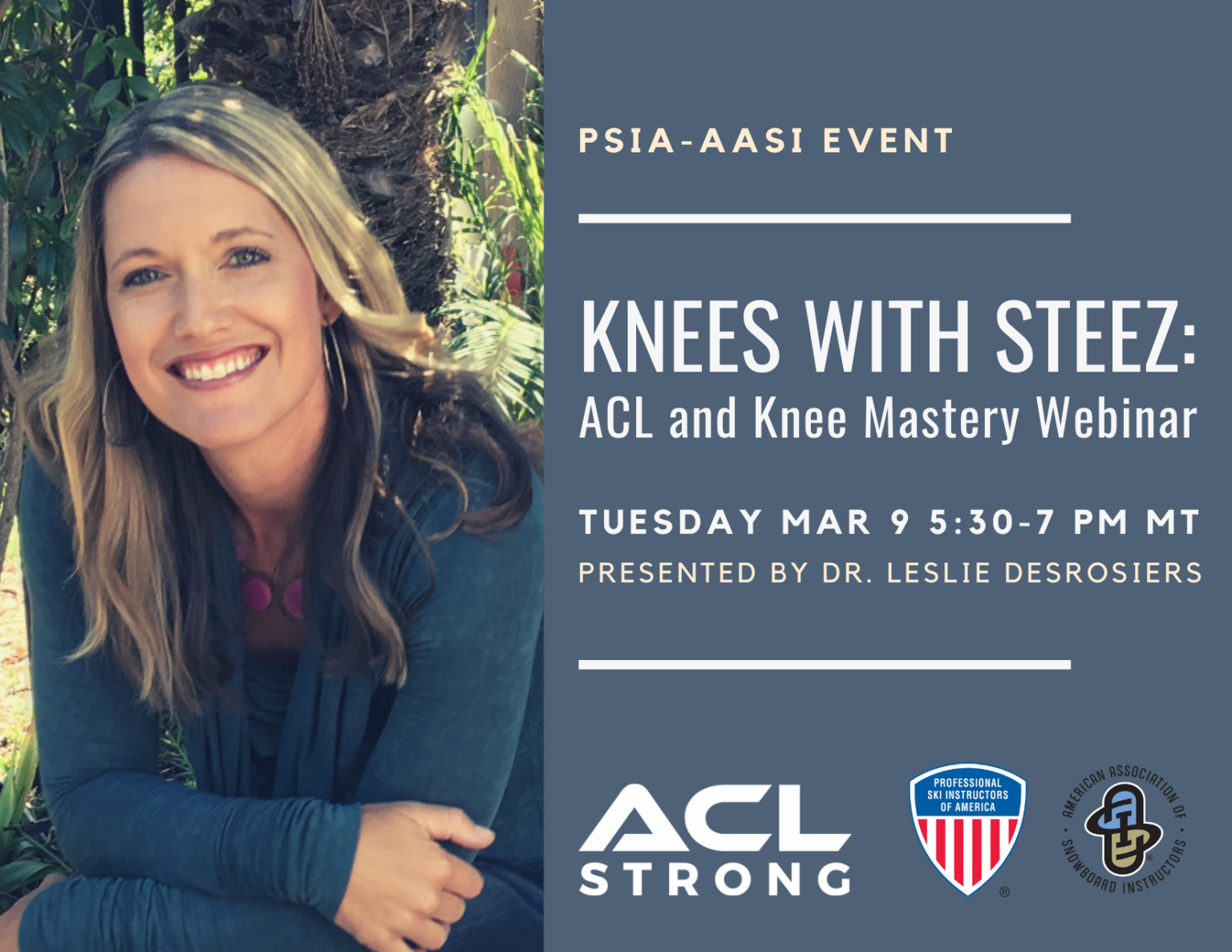 Thank you for attending!!!
Presentation Slides (Request via email)
Q&A (Scroll down to see some of the questions and answers)
Post-Webinar Instructions: Sign up for ACL Strong
---
Group Info Session for Ski Area Administrators on Tuesday, April 6
Contact Dr. Leslie
---
For your reference, below are some of the videos from the presentation as they are not accessible in the slides.
ACL Injury clips in skiing
Dysfunctional mechanics in everyday life can lead to knee problems – and you may not even realize you're doing it!
Amazing Recoveries!
When you have the hip/core strength and neuromuscular control to maintain lower extremity alignment, you can make saves, like this!
---
Below are some of the great questions that I received from attendees
How do "bad" valgus movements relate to "good" angulation?
Great question about good angulation vs knee valgus, because they CAN look very similar on the surface.  However, if you can try to get the angulation from hip abduction, rather than knee abduction (or valgus), then you're in a more optimal position for performance and safety. Try to keep the knee in alignment between the hip and foot (maybe you need a wider stance for this), and get the edge angle by allowing the hip to open to a larger angle, as opposed to dropping the knee inward. The desired angulation is from the femur articulating with the pelvis. Keep in mind that Q angle is a normal anatomical structure, and mild knee valgus may be utilized intensionally to fine tune the ski edge angle, but the key is to control excessive amounts of this motion to protect the joints and maximize power and efficiency.  I hope that makes sense!
I have a tendency to knock knee.  When I ski, I use fairly aggressive custom orthotics.  But in real life, I'm retired and spend most of my time at home.  Mostly barefoot.  Should I be using shoes with orthotics for my day-to-day activities as well?  Or is it enough (better) to just be mindful about how I'm using my knees?
If you don't have any knee issues in your day to day life, then I wouldn't worry about adding orthotics to your daily life at this time, but rather focus on awareness and stability from within.  If you do have problems/pain, then we might want to revisit this conversation. 🙂 Being aware of your movement and being mindful of how you are using your knees would be best.  To take it a step further, I would recommend strengthening the integrity of your foot muscles through exercises and awareness.  With the Snow Pro Package, you have access to the Ankle course, which will be really beneficial for you.  You can add these few exercises 2-3 times per week to work on the control from your foot to your hip.  Great question!  
I have heard that there are two schools of thought about less-than-ideal alignment issues like valgus knee movements.  One is to work on the bio-mechanics to correct the issue.  The other is to build muscle and joint strength to reduce the likelihood that the bad mechanics will result in injury.  Of course, these two approaches are not mutually exclusive.  Still, it would be good to hear your thoughts and approach. 
I see that the two schools of thought actually aren't that distinctly different.  Let me start by saying that not all valgus movement is bad.  Valgus is part of real life movement, agility, sports, etc.  The key is that you have to be strong and controlled when you are in a dynamic valgus position.  The problem is when someone collapses into valgus because of weakness or poor neuromuscular control.  They get caught there, and they don't have the strength to protect themselves or recover out of it, especially in a moment of truth.  Or, they collapse there so often that it eventually leads to break down of the joint.  
So, I believe in the importance of strengthening the entire limb and improving the capacity of the joint to handle multi-directional forces, especially in functional positions.  Sometimes I even do hip strengthening exercises with the knees purposely in some valgus, but I certainly wouldn't do JUST that.  I also believe it's important to be aware of the biomechanics and train with good form so you establish better movement patterns that will be more familiar, natural, and automatic when you need them in real life.  This will also protect the joint from long-term wear and tear.  That being said, people come in all shapes and sizes, and you can't change someone's anatomy.  For example, I have a less-than-ideal alignment issue, between femoral anteversion and tibial varum.  I don't expect those terms to mean anything to you, but these are structural issues that make me more susceptible to a dynamic knee valgus movement pattern.  I can't change it completely, but I try to focus on good form during exercise because it's one factor that I can control.  I believe it's even more important for me to work on hip strength, than someone else without this structural thing, because my anatomy puts me at a slightly higher risk.  If you are naturally knock-kneed as well, no problem, just work on what your body allows you to do, knowing that you can't change anatomy.
So, it seems like the two schools of thought really aren't that separate for me.  The discrepancy might be with extremists who think you have to always do something one way or the other.  As in life, moderation is usually best!  And the more well-rounded of an athlete you are, the better!
If you have old knees with minimal cartilage, it would seem to me that rest and stretching will delay the joint replacement, while continuing to exercise (ultra-marathons, wrestling, moguls, etc) will hasten it. What is the science for exercise on minimal cartilage?
Great question and very applicable to many. Thanks for attending the webinar and for following up with me. 

Exercise is proven in the research to be beneficial for healthy AND arthritic knees. Loading the joint helps to promote cartilage regeneration, synovial fluid health, and bone density.  Cartilage actually thickens in response to loading, as long as you aren't loading too much too quickly. In fact, the way cartilage gets its circulation is through loading and unloading of the joint, and basic movement. 

I think the difference from what you said, is that exercise prescription, or "loading", must be appropriate and within the "capacity" of what the joint can handle. 

For example, if you have extensive cartilage damage and reduced joint space, then there is a level of exercise that can load the joint without overloading it. Ultra-marathons, wrestling, etc without proper training could be too much, as you suspected.  While stretching and rest are beneficial for long-term maintenance, so is a gentle strengthening program.  Strengthening the muscles around the knee actually helps to unload the joint surface by absorbing some of the force. You can start with strengthening in an unloaded position, like seated or lying down.  You want to find exercises that you can do without flaring up the knee, because that will set you back. Gradually, you'll be able to do leg strengthening in standing, and you'll have less pressure or wear and tear on the knees. 

The key is to balance gentle "loading" with the stretching and rest, like you said, and progressing as you can tolerate.  Loading doesn't mean "high impact", so that might be a change in mindset too. You might decide to shelf moguls and ultra-marathons, but you can still do other forms of low-impact loading."
When doing the right, left. forward, and back on the Bosu ball, do the hips move up and down when going right and left, or are they supposed to stay level? 
There will likely be some amount of up/down as you shift your weight across the bosu because the dome of the ball is quite large, but the focus should be on keeping the movement generally "quiet" from your pelvis through your chest and upper body.  Try to keep the hips mostly level, because any lateral tilting of the pelvis means that your spine will have to sidebend to get your head and shoulders level…and we don't want to have the spine sidebending under load in a turn.  So if you try to make the movement mostly happening with your legs, and dissociate your upper body to stay level and stealthy, then you're probably doing it right!
The other question I had, and has always had, is how often does Patrick practice these exercises?  He always does a great job demonstrating the exercises.  It was really fun to watch him pause in the middle of a movement and hold it until you explained what you wanted to explain and showed no signs of getting tired.
Haha.  He's a demo guy, right!?!  I'm lucky to have him. It's funny because we tend to do these types of exercises all day long while treating patients, simply by demonstrating concepts or exercises.  He racks up some good time doing these, and it shows! 🙂
---
Learn more about preventing knee injuries and performing better – Click here to become ACL Strong!