Ski Patrol Strengthening Program
Get Ready to Handle Any Challenge on the Mountain with More Ease
Finally, a strength and conditioning program for the spectacular women and athletes of the SKI PATROL! This program will help you safely increase strength through the lower body, upper body, and core, so you feel more prepared for the demands on the slopes.
Ski Patrol STRONG was created as an add-on to The Snow Course, which is our flagship program to help you protect your knees, avoid injury, and stay active on the mountain for as long as possible. If you want to Save Your Knees and Add Years To Your Career, be sure to join the Snow Course to maximize your readiness! Learn more about the Snow Course
Ski Patrol STRONG will help you:
Handle the loaded toboggan on icy, steep slopes
Pull the sled across sticky, flat surfaces
Lift objects with better form and less strain on your body
Endure the unpredictable physical tasks associated with a day on patrol
Focus on good decision-making rather than the fatigue in your legs
Extend your career and climb the ranks as a lifetime Ski Patrol Pro!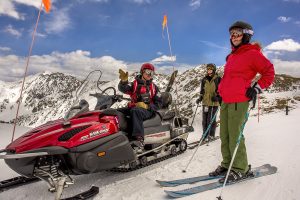 Hey Patrollers!

I'm honored to bring you the first strength and conditioning program, designed specifically for female ski patrollers! You are an elite group of athletes, and you deserve to have a training plan to support your success and athleticism on the hill. I've worked with professional athletes in the NFL, MLS, and beyond, yet THIS group of snow studs brings me even more excitement!

The Strength Training Module has 8 simple exercises that target the legs, shoulders, core, and back…the areas that sustain the greatest demand during a typical day on the mountain.

The Recovery Module includes a variety of stretches to help improve your maneuverability, overall feeling of confidence in your body, and ability to rebound after a taxing day.

You will also be invited to join our Facebook community to support each other, lean on each other, and be the best athletes and patrollers you can be!

Enjoy! This program is for YOU – it will adapt and change over time, so feel free to reach out to me if you have any requests. I'm here to help you succeed and reach your goals!

Remember, this course does NOT replace the Snow Course for Knee Injury Prevention. To truly protect your knees and be more resilient against injuries, you must complete the Snow Course 2.0. Coupon code can be found under Additional Resources inside this training.

Lastly, I'd like to acknowledge Big Bear Ski Patrol as well as the Southern California Region NSP for making this course happen!

See you on the inside!

Dr. Leslie Desrosiers, PT, OCS, CSCS
The exercises in this course include use of some equipment. Here are the items that we recommend for this comprehensive training program...
Resistance Mini Band
Resistance Band Cable
BOSU Balance Trainer (optional)
Foam Roller (optional)
Stretching Strap (optional)
Yoga Mat (optional)