Reduce knee pain and stiffness, prevent injuries, and enhance performance, in a fraction of the time of most workouts, so you can enjoy sports and life, without knee problems holding you back
A major knee injury or torn ACL changes everything.
Rupturing a ligament in the knee, like the ACL (Anterior Cruciate Ligament), is not only excruciatingly painful, but emotionally heartbreaking, and usually season-ending for competitive athletes.  Most require surgery, followed by a year of recovery with extensive rehabilitation.  The social-emotional impact can be just as difficult as the physical, if not harder.
Too many young athletes miss out on high school and college opportunities as a direct result of a knee injury.  Too many people have to quit their sport because of knee problems or degenerative joint disease.
Worst of all, statistics show that after ACL reconstruction, most athletes don't return to their same level of competition, 1 in 4 will re-tear their ACL, and 50% will go on to develop early arthritis. 
Don't let this happen to you or your athlete, especially when "injury prevention" or "risk reduction" has never been easier.
ACL Injuries per year in the United States
of ACL injuries occur during turning, jumping, or decelerating
Fewer Injuries after a 4-6 week neuromuscular training program!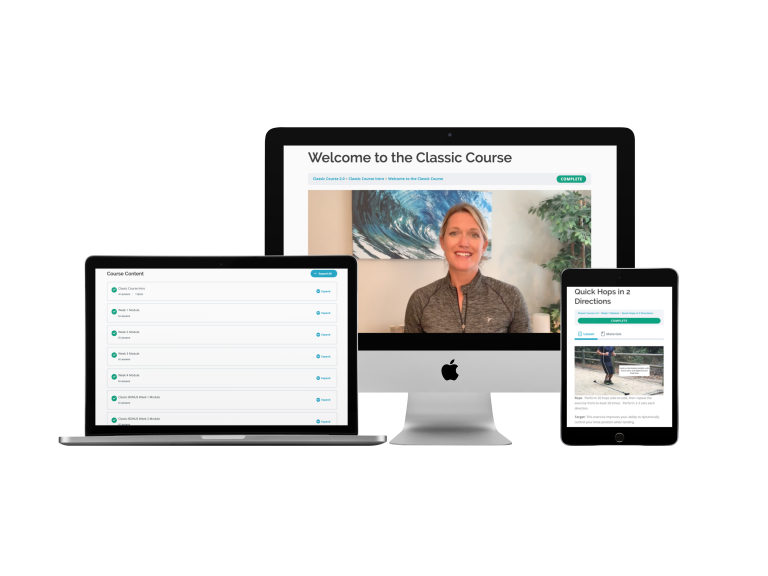 We have the SOLUTION
...and nobody does it like we do!

Our online courses help athletes and active people strengthen properly around the knees, hips, and core to prevent or avoid injuries. Our step-by-step process guides athletes through the exact exercises to do in a short amount of time, so they don't get lost or have to figure it out on their own.
Start with one of our Flagship Courses
Don't waste time figuring out the right workout from infinite possibilities. Choose an ACL Strong Course based on your sport. Start with the Snow Course or Classic Course, then select the Add-Ons that are right for you.
Group Rates Available.
We understand that taking time for "prevention" might not be something you've thought much about.
That's why we've made it super easy to do in just a fraction of the time of a traditional workout.  Plus you'll actually move more efficiently, which will improve your performance in sports.  Our system is proven and professionally designed so you get results.  If you're not sure which course is for you, read below: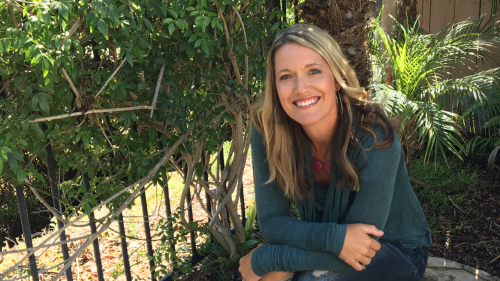 Athletes in sports that involve lateral movements and quick changes in speed and direction are at HIGH RISK for a torn ACL and should be enrolled in the Classic Course for protecting their knees and improving performance on the field or court.  Researchers and experts agree that all youth athletes 12-25 years old should participate in this type of training.  Click Here to Learn More
ACL injuries and degenerative joint disease are all too common on the snow, even with highly experienced skiers and riders.  More hours on the snow = higher risk of knee injury and wear-and-tear on the joints.  Chronic knee pain and acute injuries take people off the mountain every year.  Snow athletes should enroll in the Snow Course prior to the beginning of the season and should continue with the maintenance exercises during the season.
Ski area employees will sustain fewer injuries on snow and ice.  We are partnered with PSIA-AASI and National Ski Patrol to support people working daily on the snow.  Click here to learn more about the Snow Course, and consider the Ski Area Program if you are part of a group or organization.
Soccer Teams, Basketball Clubs, and Ski Resorts across the world are reducing injury rates with ACL Strong by returning each year to complete the training as a group.  Group discounts are available and rate is determined by number of participants.  Contact us for a quote.
"This Program has taken my strengthening to the NEXT LEVEL!"
Dr. Leslie has done an amazing job creating ACL strong! As a fellow therapist, and bb coach, this program is both doable for the busy athlete and spot on in the training. I love the educational side, and the improvement I saw in our athletes in 4 weeks was awesome. Thank for your work!
After the first couple of weeks, my legs and knee felt stronger, and more importantly, my pain was gone. The videos were very detailed on how to do the exercises which made them super easy to do. Thanks Dr. Leslie!!!
Your program is so awesome! I was blown away! I really enjoyed the versatility of the different moves and explanation especially for those that don't have a Bosu ball or other professional equipment handy. Although my surgeons had done work for the US ski teams, I never found a PT that incorporated as many ski like strengthening moves as you. AMAZING! In fact a lot of us instructors have been excited to share our progress with each other in the locker room in the mornings. I can' wait to keep up this routine and do it all over again next season. I will forever be recommending your program thank you!!
Before I started the course, I had to push myself up off the floor. Now, I can stand up without having to pull myself up! I have had a torn ACL and two hip replacements, and someone just told me that I'm now walking better than they have ever seen me! This course is working!! Thank you again!
The girls had an amazing season, played at an extremely high level, and we finished the season ACL strong! I believe the core strength, stability, balance, and technique we train through your ACL strong program has helped keep us almost completely injury free.
With much of the emphasis on the core and hips, I received an unexpected benefit from the program that helped my hips! I had an old hip injury that bothered me for years, but sometime during the program I noticed the chronic, nagging pain I had was gone. So . . . thanks ACL Strong!
Recommend ACL Strong for moving and performing BETTER!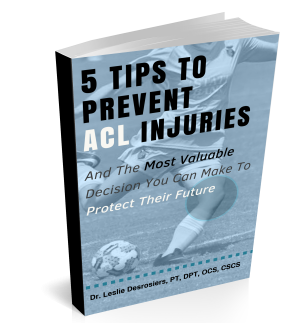 Bulletproof Your Knees and Have your Best Season Ever
Get 5 quick strategies to start using right away to ensure you protect your knees and have a killer season. Don't wait and regret it later. Grab this FREE Guide Today. 5 Tips to Prevent ACL Injuries...And the MOST VALUABLE Decision You Can Make to Protect Your Future.