Skiers, Riders, and Outdoor Enthusiasts...
Reduce Pain, Avoid a Torn ACL, and Save Your Knees Long-Term with 20 minutes, 3 times per week
Follow a proven process that has helped thousands of people stay active and injury-free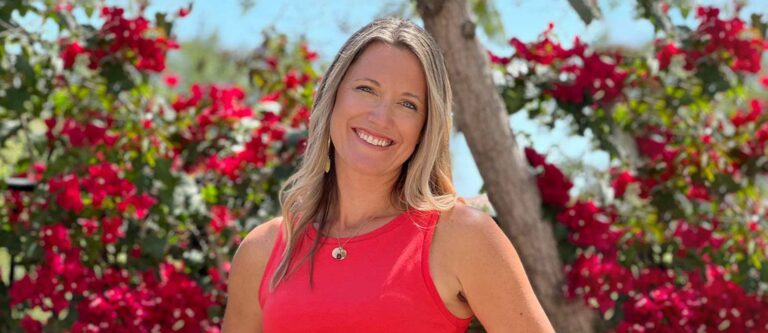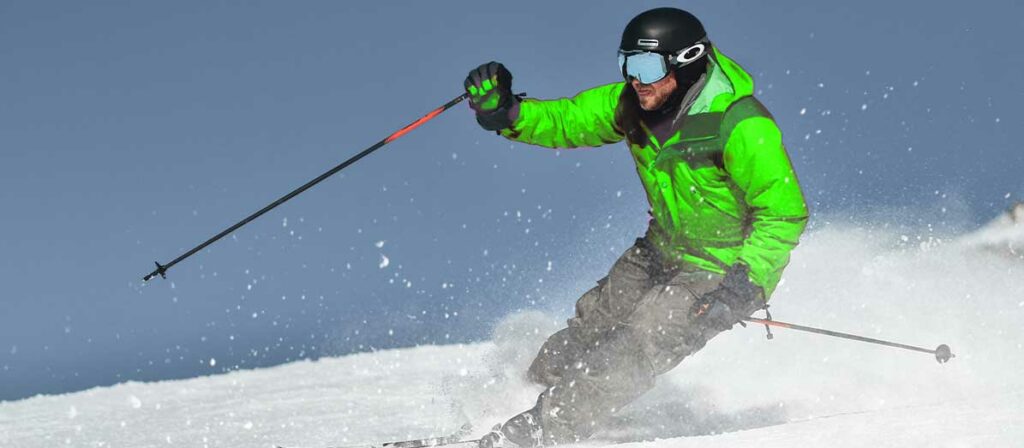 Knee pain or ACL injuries seem almost inevitable when you're on the mountain year after year
If you're like most of our members, you love the feeling of carving through fresh powder, crushing moguls, and exploring new terrain. First tracks, back-to-back days, and impressing yourself (or your kids!) are all part of the rush of being out on the slopes as much as possible through the winter.
The off-season brings more outdoor adventures in the mountains, rivers, deserts, and oceans. Whether it's biking, climbing, hiking, paddling, or other outdoor lifestyle activities, we all want to keep doing what we love for as long as possible…
We need our knees to keep up for the ride.
But chances are, you know someone who has had a serious knee injury and never got back on skis. Or someone with arthritis so bad that it hurts to even think about sliding into boots or hiking across rocky terrain.
And you might already know this, but…
It's frustrating to live with pain.
It's disappointing to miss out when you're hurt.
It's scary to come back after an injury. 
And it's discouraging when you can't do what you used to do.
You may have wondered if you're doing "enough"
to maximize your fitness, protect yourself from injury, and maintain your lifestyle for as long as possible.
Most people think the best way to be "most prepared" is by working out harder. But the truth is, it's not about how much you exercise, it's about how you exercise.
Yoga, weight machines, and mountain biking are NOT enough. They are missing a critical training element…
You need certain exercises to teach your brain and muscles to communicate quickly so you optimize movement and stay out of dangerous positions. You need exercises that are specific for your sport.
Unfortunately, most people aren't doing this type of training because they either didn't know it was possible, or they don't know HOW to do it…(so they completely skip it!)
I get it, though. There are a lot of conflicting ideas about the best exercises to do and it can be overwhelming and exhausting to try to figure it out on your own.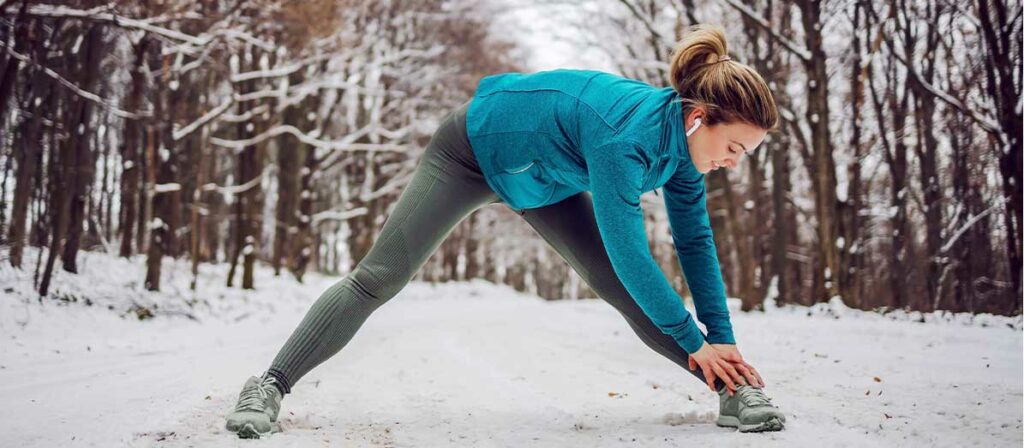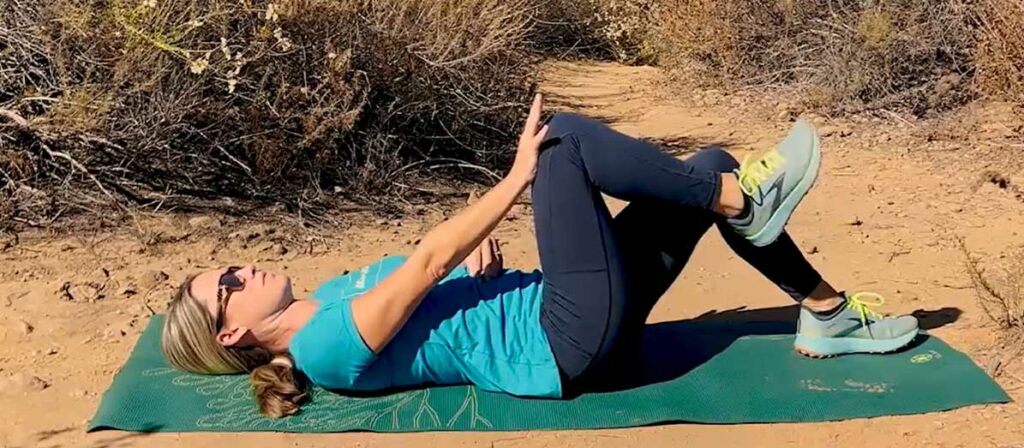 With so many exercises to choose from, how do you know which ones are the BEST for preventing injuries?
You're NOT alone…
"Injury prevention" isn't talked about early enough. Everyone should learn this in early adolescence because it is so valuable…but instead, we wait until you get hurt to teach you the trick to not getting hurt. It doesn't make sense.
So if you ignore preventative exercise, and you don't take a strategic approach to longevity or performance, your skills will plateau, your joints will degrade more quickly, and you'll be faced with injuries or surgeries that could eventually force you into early retirement.
Honestly, I've been active in sports my entire life and never heard anything about "injury prevention"... In fact, it wasn't until I became a Doctor of Physical Therapy that I discovered how EASY it actually is! My mind was blown. Why is nobody doing this??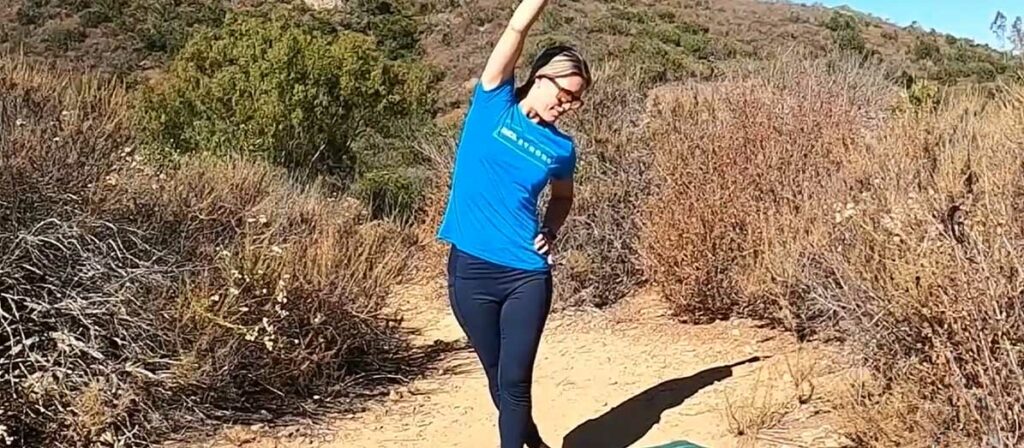 So here's the cold, hard truth that nobody ever told you…
Doing The Right Exercises, The Right Way, Is The Absolute BEST Way To Protect Your Knees, Prevent Injuries, And Elevate Your Performance.
It's PROVEN by years of research!
In fact, a systematic review with meta-analysis (basically this means ALL of the good research was compiled) published in the American Journal of Sports Medicine revealed a 53% reduction in lower extremity injuries reported after performing a 4-6 week "injury prevention" training program with sport-specific exercises that included agility, plyometrics, strength, and balance training. (Huang et al)
Plus, these programs can help reduce pain and improve performance!
Experts agree that these programs are HIGHLY UNDER-UTILIZED.
…mostly because people don't know WHAT to do, or HOW.
And that's exactly why I've made it really easy for you…
The Snow Course isn't like any exercise plan you've tried before
…It's a 6 week transformational process that will guide you
From being under-prepared and vulnerable (without realizing it)...
To being stronger, more resilient, and more knowledgeable about protecting your knees and lifestyle long-term
All you need to GET RESULTS is just:
Which of these results would you want?
Find out what our members say about their experience in ACL Strong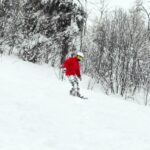 a big difference in my strength and conditioning
"The training has made a big difference in my strength and conditioning this year, so thank you very much for the fine program!!"
Eric H., Northstar Ski Instructor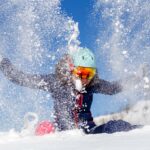 helped me rehab my recently sprained knee
"Not only do they help your knees become stronger, they helped me rehab my recently sprained knee that previously had meniscus surgery. Thank you Dr. Leslie!!!!"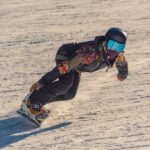 My knees haven't felt this good in 20 years.
"I just turned 69 !!! My knees haven't felt this good in 20 years. This has changed my life. I'm no longer thinking about surgery."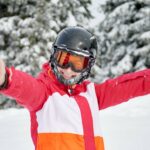 made a difference in strength, agility, and confidence
"This program made a difference in strength, agility, and confidence on skis. I tore an MCL a couple of years ago, and even with extensive rehab, I always worried about it. ACL Strong helped me strengthen and get over that apprehension."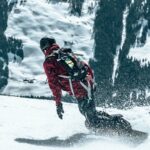 ACL Strong has helped me avoid surgery
"I had been recommended to have two knee replacements. ACL Strong has helped me avoid surgery, for now. I'm skiing stronger this year than last. Thank you for the program!"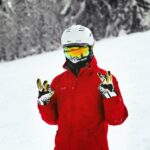 my legs became noticeably stronger & ready to ski
"Even though I consistently workout, following the program helped my legs become noticeably stronger and ready to ski. The addition of balance work and a proper pre-ski warm-up were an added benefit."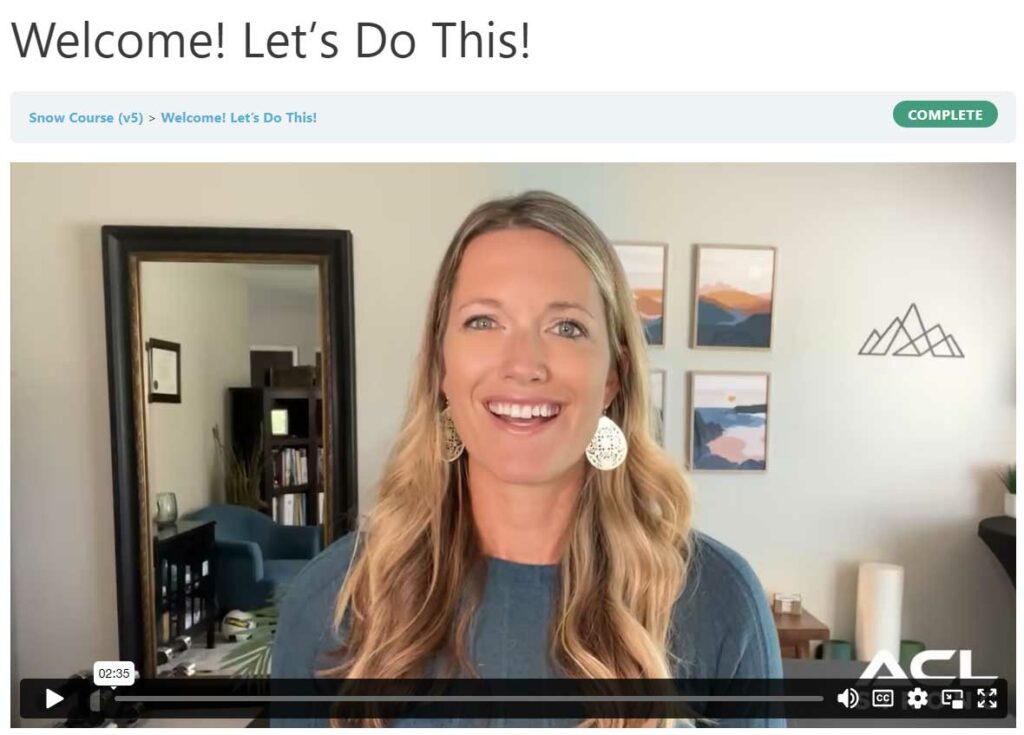 Intro Module: Uncovering the Secret to More Effective Workouts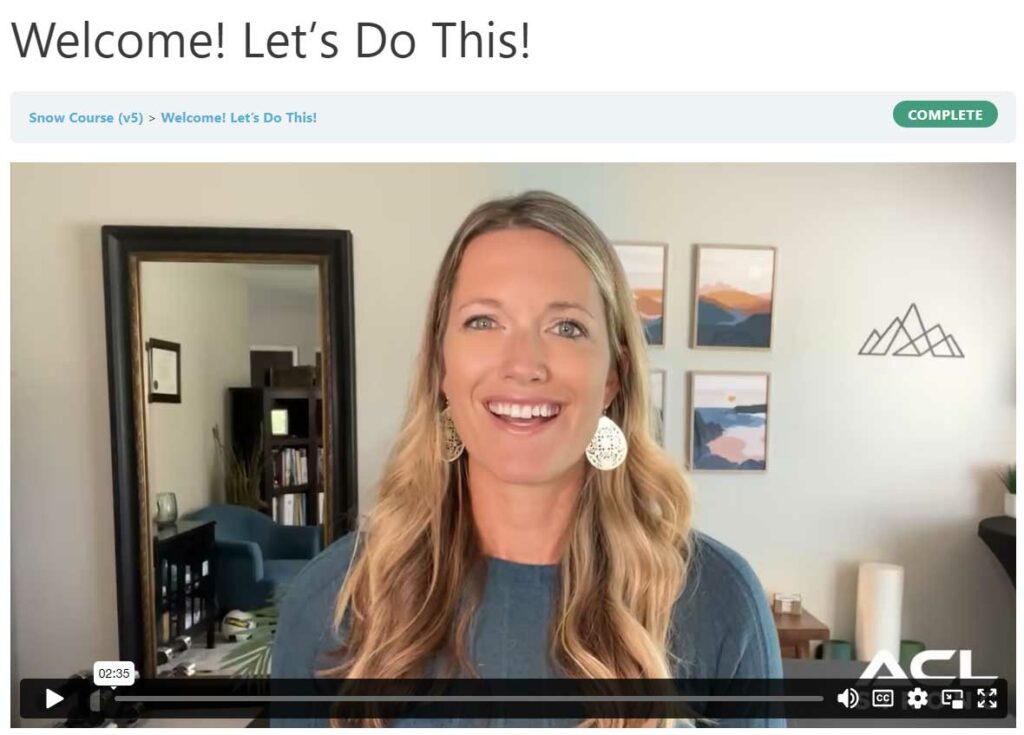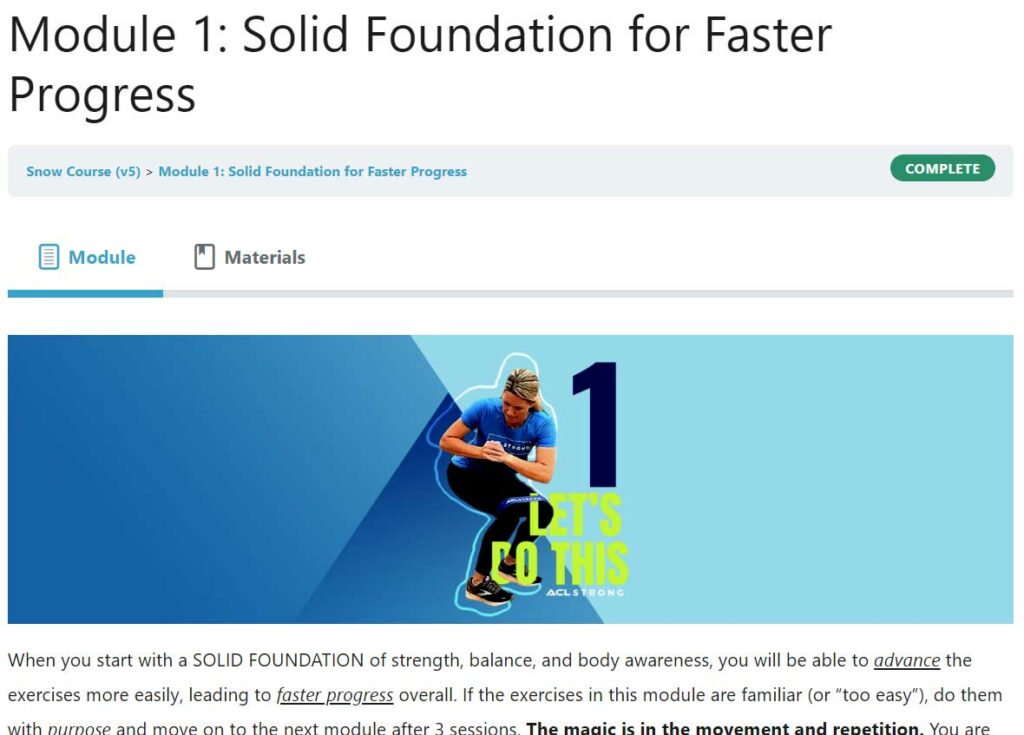 Exercise Module 1: Solid Foundation to Make Faster Progress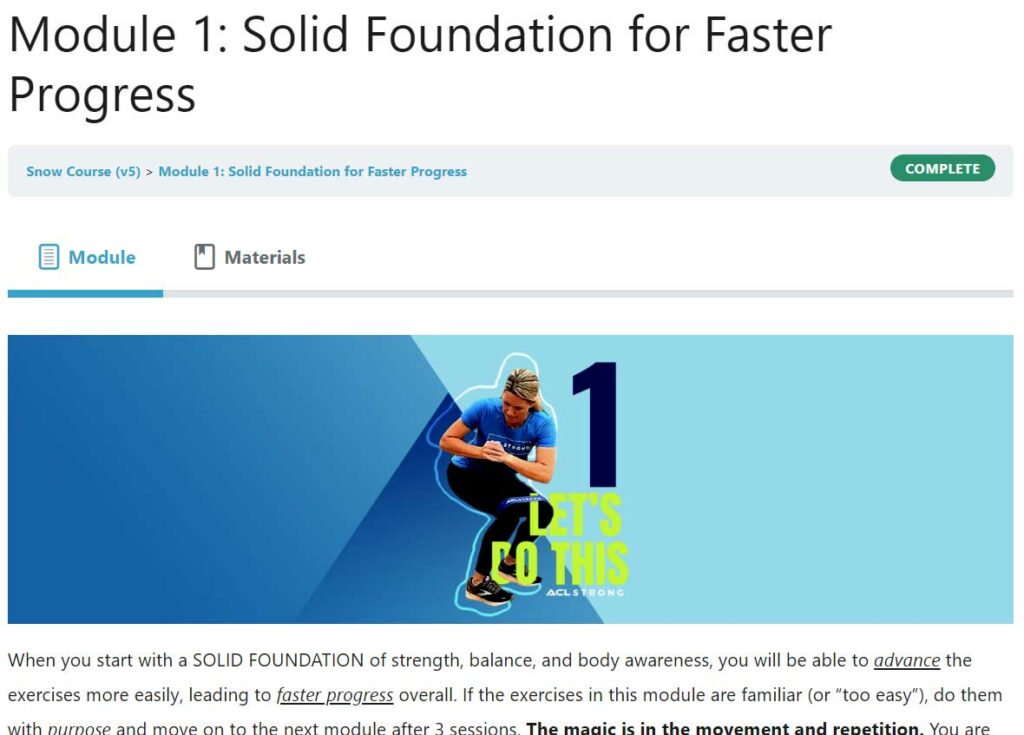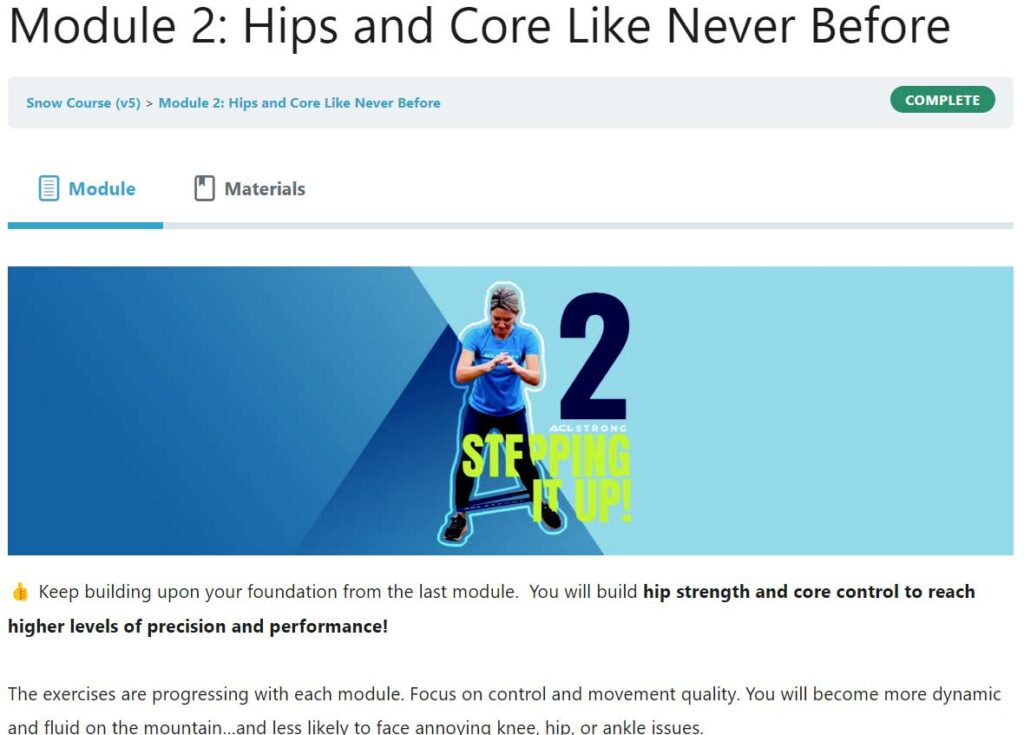 Exercise Module 2: Activate your Core Like ever Before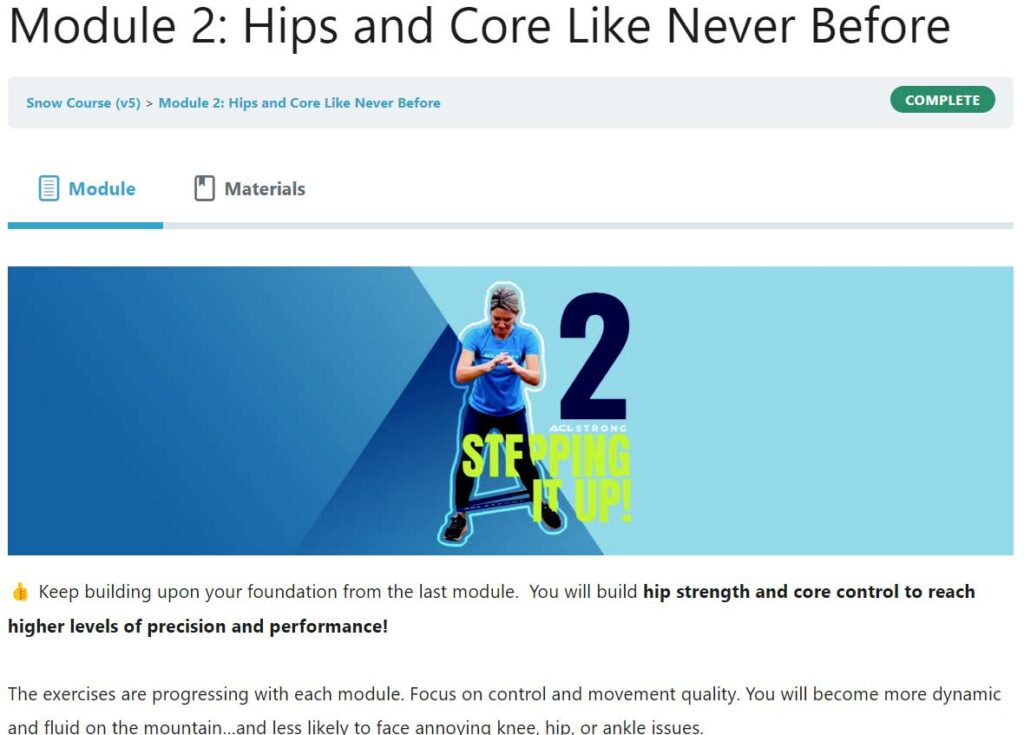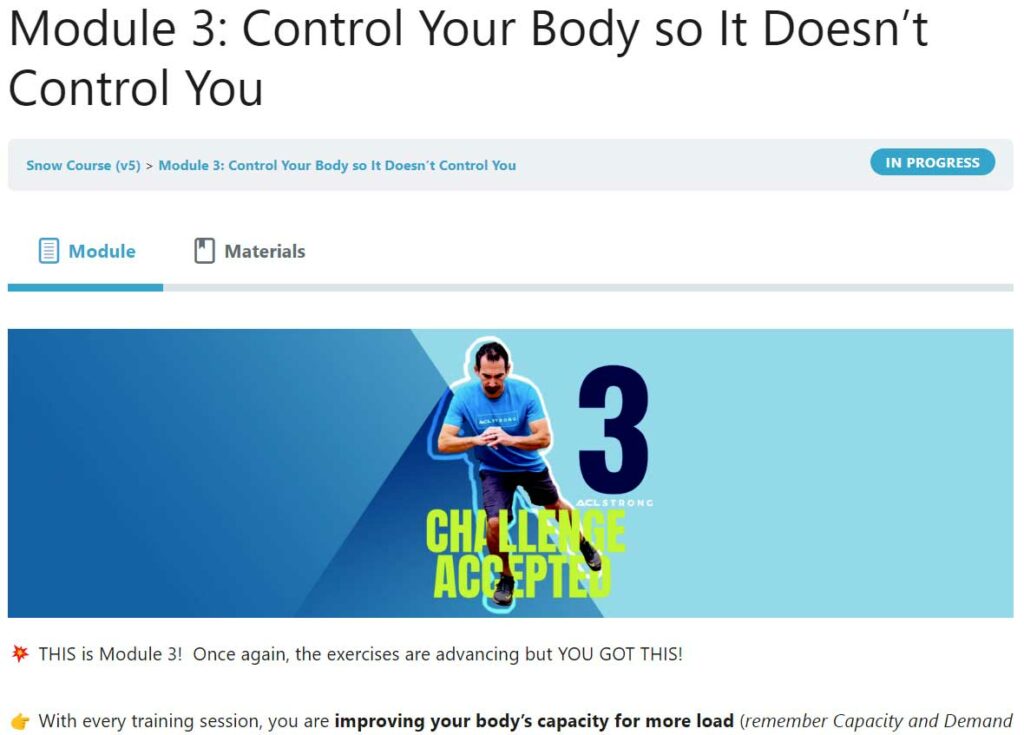 Exercise Module 3: Control Your Body so it doesn't Control You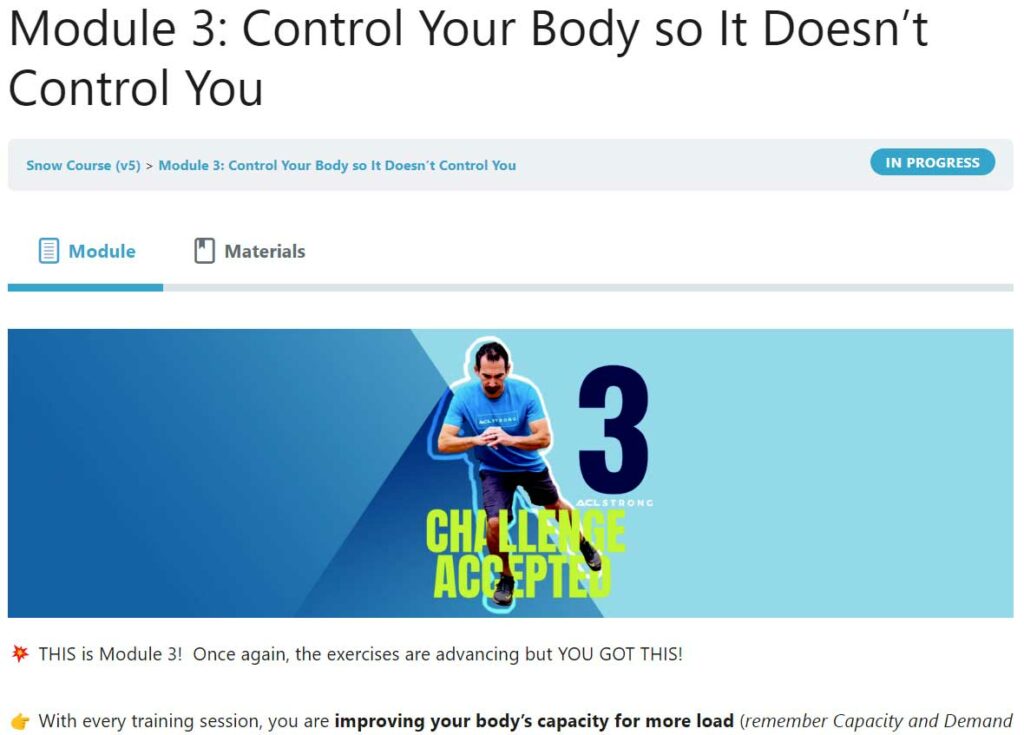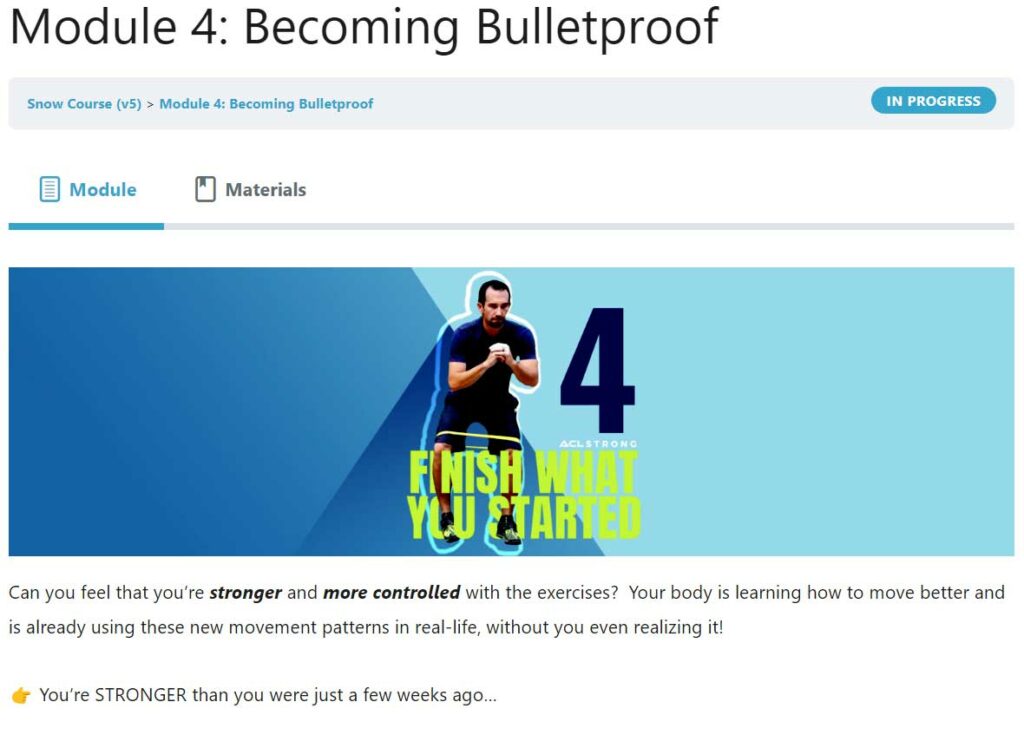 Exercise Module 4: Becoming Bulletproof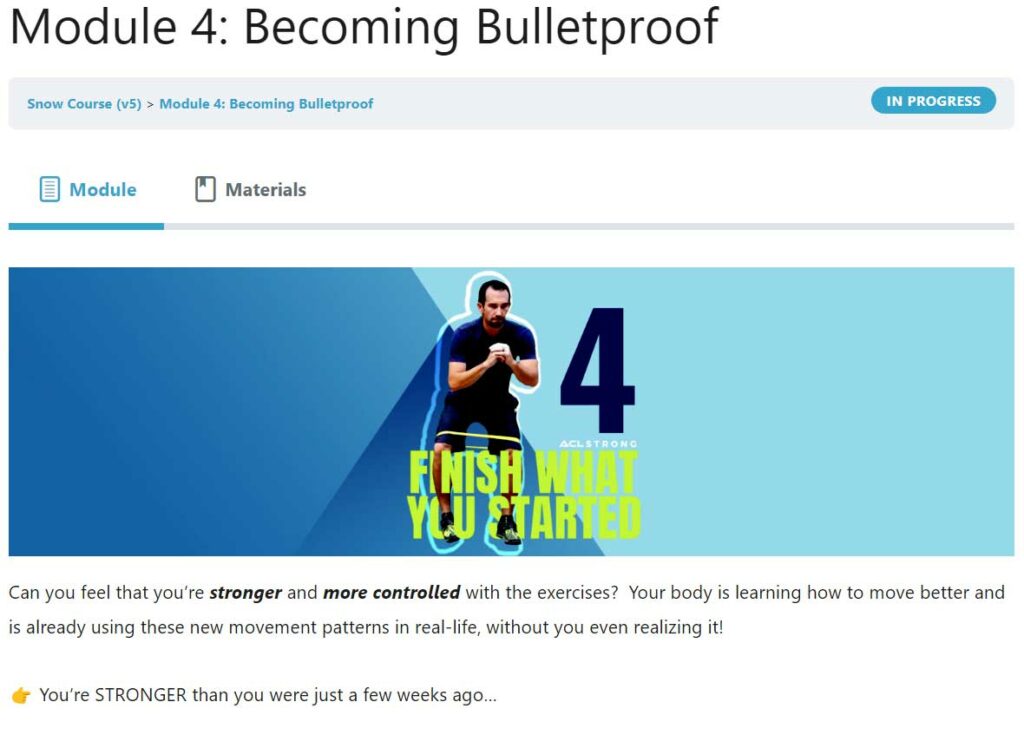 PLUS, A Black Diamond Bonus Challenge to amplify your Results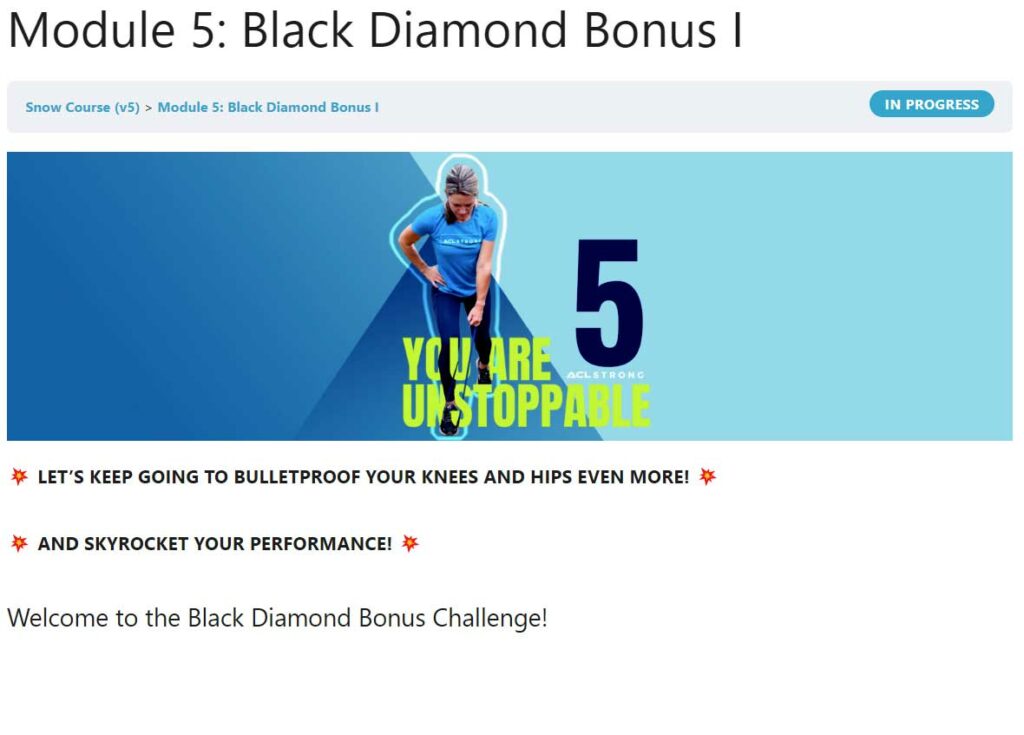 Bonus Module 5: Leveling Up Your Game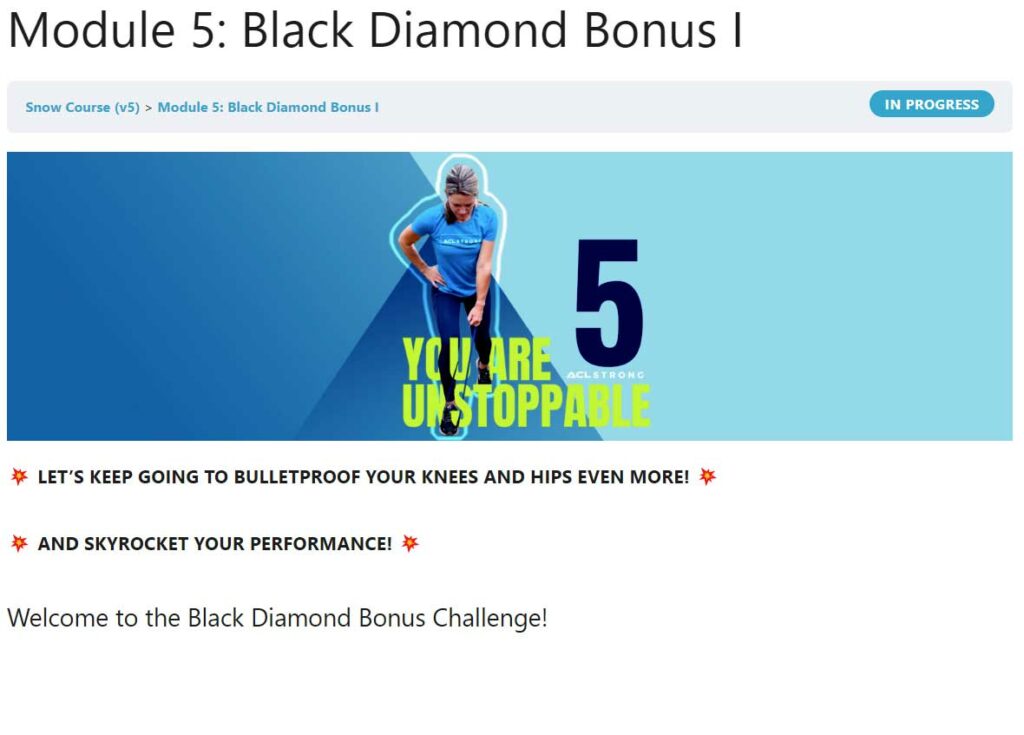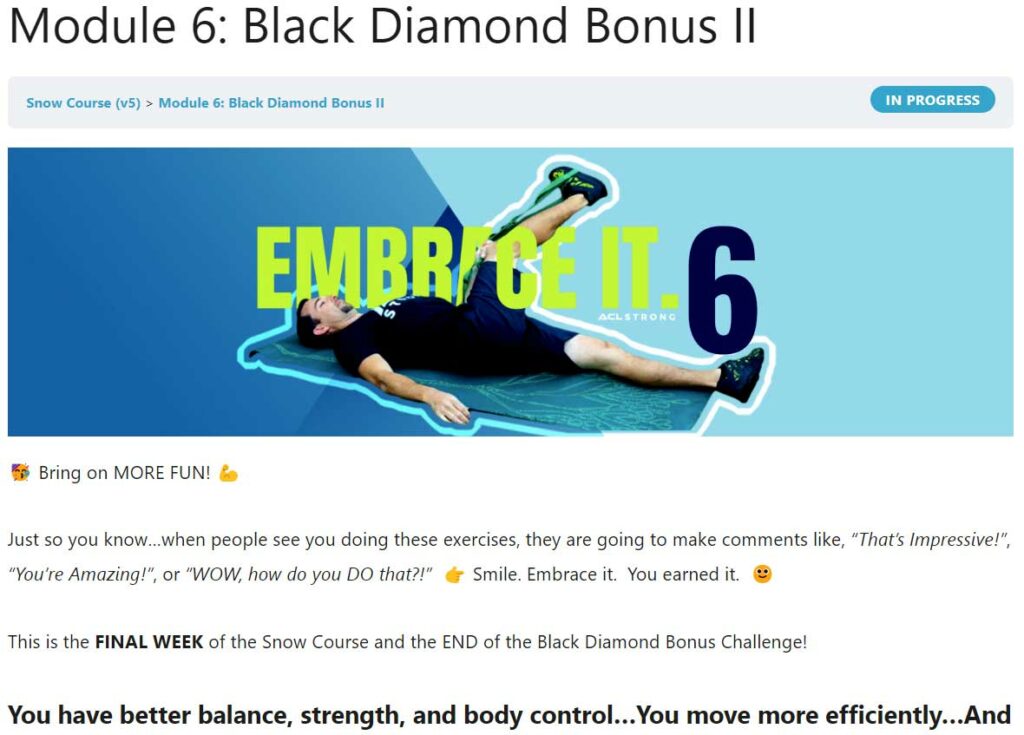 Bonus Module 6: Blasting into your Best Season Ever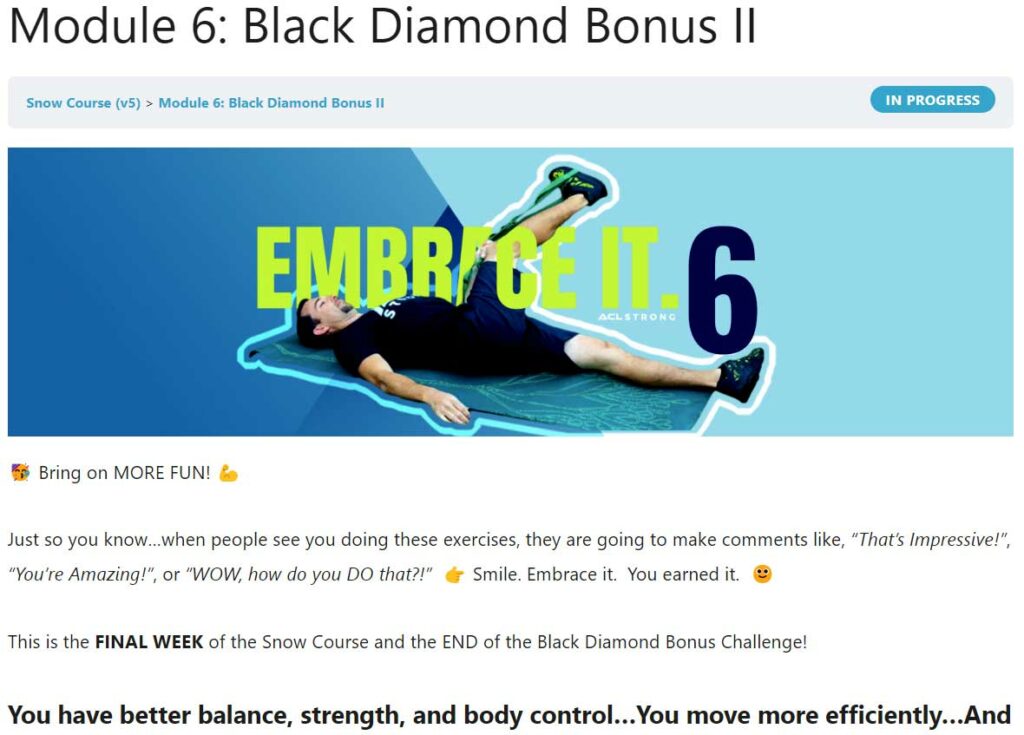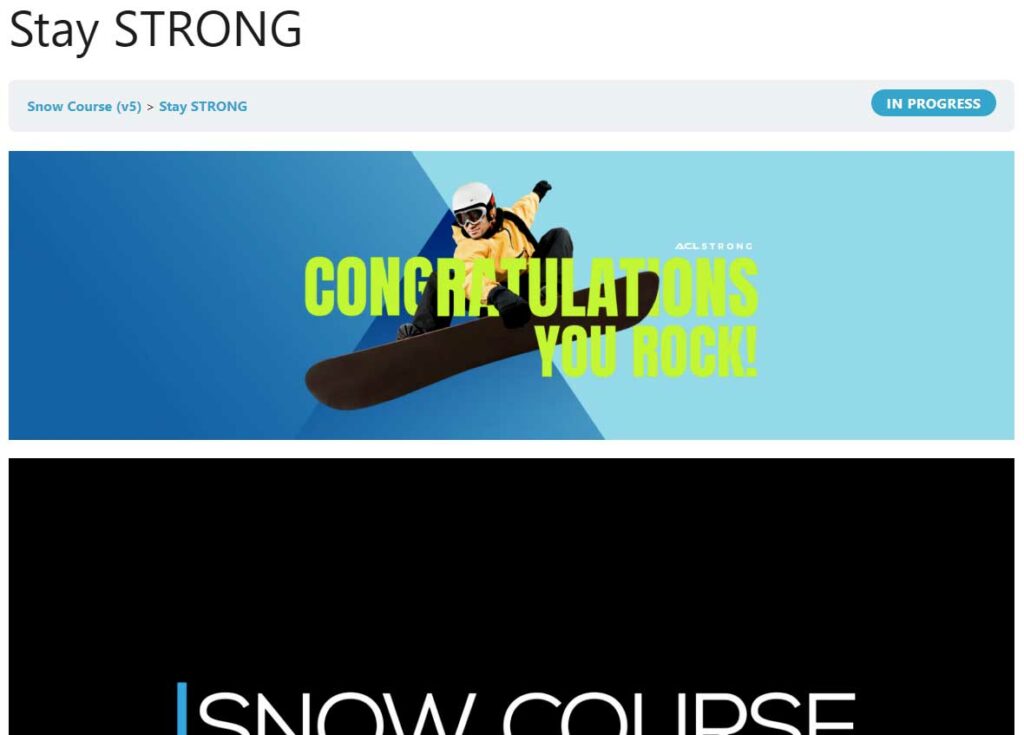 Final Module: A Realistic Maintenance Plan for Long-Term Success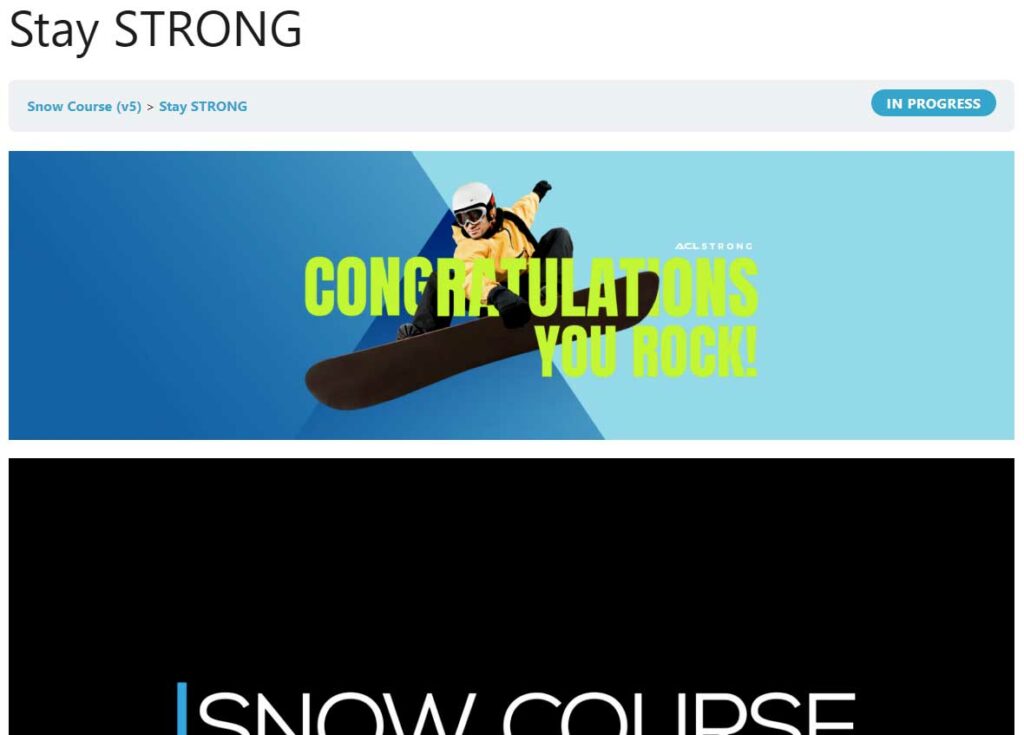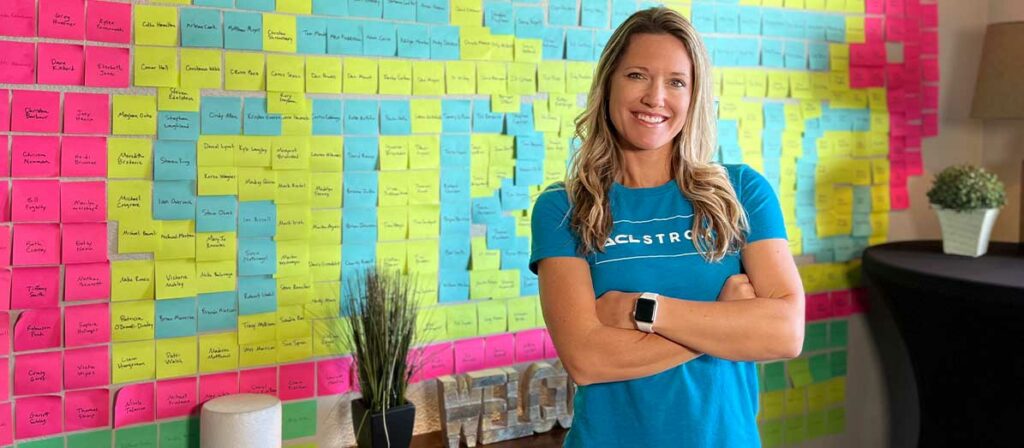 " I've helped thousands of athletes and active people of all ages overcome injury and take their performance to a higher level "
I know you have options when it comes to your health and fitness…
To give you some perspective, my patients pay me anywhere from $3000 to $7000 to guide them through rehab and back to their sport stronger over a 6 week to 4 month period. So, you could hire me one-on-one, but I'm limited on how many clients I can take on at that level and my waitlist is already so full that I'm actually not accepting new clients right now.
Or you could hire a personal trainer to take you through a ski or snowboard specific training program, but you will have to pay a premium price to get an experienced, qualified trainer who will keep you safe while you get stronger. Plan to spend upwards of $2000 for just the first 6 weeks, not to mention meeting early in the morning or late in the evening for scheduled appointments. And after 6 weeks, then what? You'll be on your own again and you'll probably have to spend that money again next year for pre-season fitness training.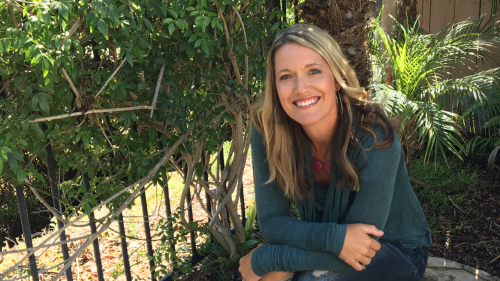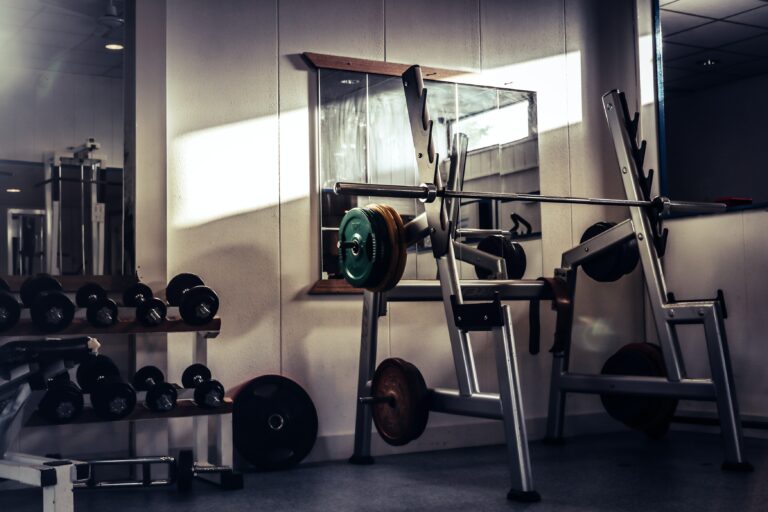 On the other hand, you could try to figure it out on your own and spend hours at the gym, wasting time on the wrong exercises, or even worse, making your knees more AT-RISK by doing exercises the wrong way. And if you're like most people, you'll still miss the most essential components of training that will help prevent injuries. Figuring out exactly which exercises to do can be totally overwhelming. There are so many websites, online videos, and unqualified people saying what TO do or what NOT to do. Who should you trust? The truth is, most of what's available for free online is risky because it's not designed with safety in mind, or with your specific goals in mind. I've seen a lot of people get hurt by following "recommended" exercises online.
Don't make mistakes that could cost you your knees. It's NOT worth it.
I designed this program to be a complete process to help active, outdoorsy people make the transformation
from not even realizing that they are weak or vulnerable in certain critical areas, to being stronger and more resilient athletes, so they can simply do what they love, without being limited by preventable pain or injury.
My goal was to create an option for people who want to do this proactively, so they don't have to get hurt in order to learn this life-changing information.
While I could easily charge over a thousand dollars for the Snow Course, it's actually only $329 because I want to get this into as many hands as possible to make their lives better (and to make a dent in the skyrocketing injury rates).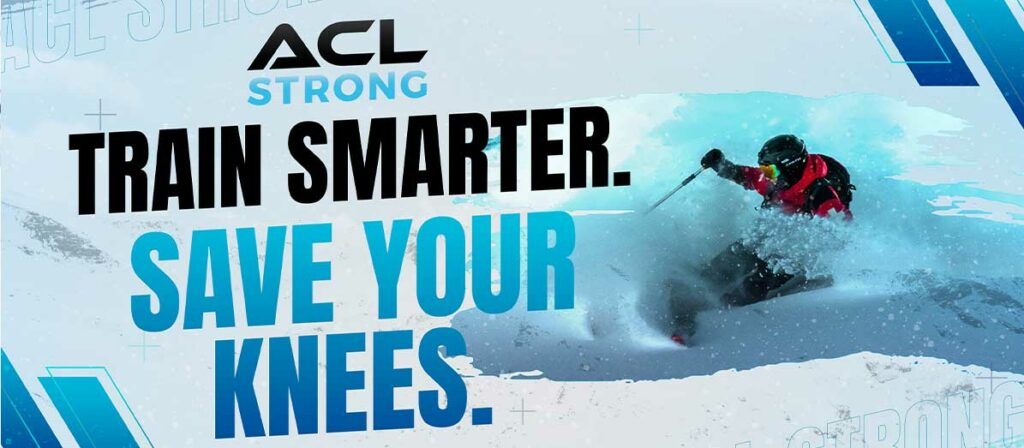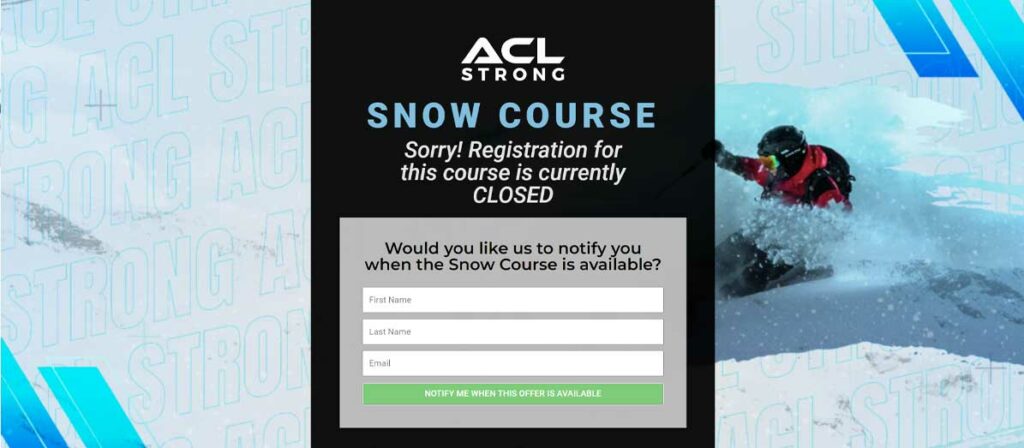 Your Secret Back Door Access
Registration is only open at certain times of the year because we put so much focus on delivering a high quality experience and expert support for our members. We truly want everyone to succeed…to feel better than before…to be stronger than last season…and to get as much quality time on the mountain as possible! (THIS CAN BE YOU!!)
This secret back door is available only to people who have attended the webinar training! So, not only do you get a discount for $100 off, but you can sneak in through the back door right now, until this offer expires. (After that, you'll be directed to the waitlist until registration opens to the public.)
So tell me... ARE YOU IN?!
Enroll in the ACL Strong Snow Course Today
Click the button to get $100 OFF and Lifetime Access!
Regularly $329, but register before the deadline and get your discount locked in!
And there' s NO risk because your Investment is fully backed by our 30 Day Money Back Guarantee!
We are so confident in ACL Strong and we want you to feel at ease with your investment. You can rest assured that if you buy this program and go through it, but you truly don't find value in it, we will give you a full refund. No questions asked.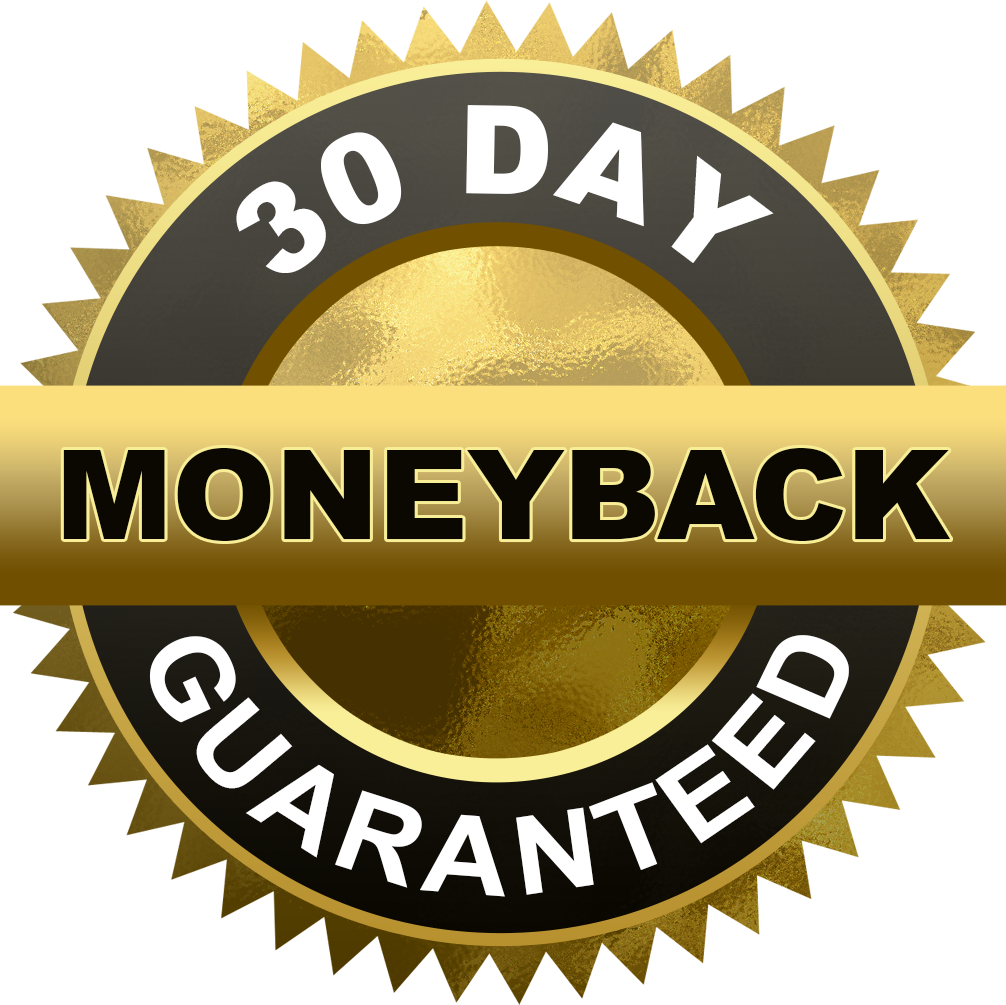 PLUS, Get 3 of our most popular bonuses…for FREE!
The 8 module Snow Course itself is a complete plan to transform your training and enhance your season. But there's more where that came from!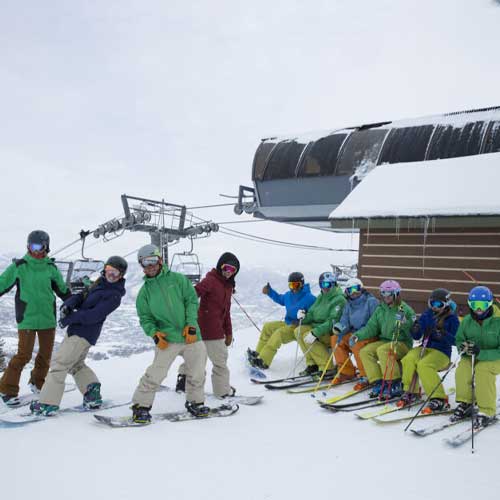 The mistake most people make is they skip a dynamic warm-up. To perform your best, push your limits, or simply be more resilient, a good warm-up is an essential part of your day.
Whether it's mature joints or a minor setback, a simple stretching routine can go a long way to help you recovery and get ready for more.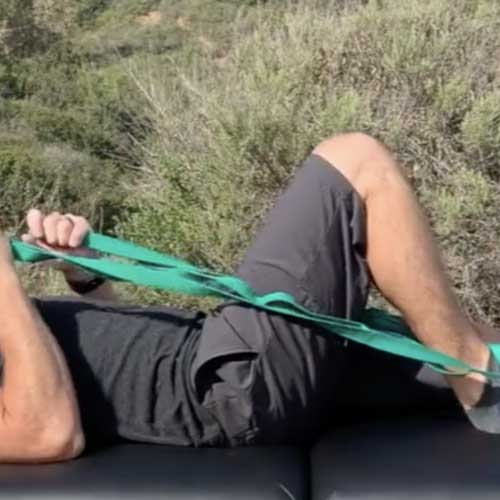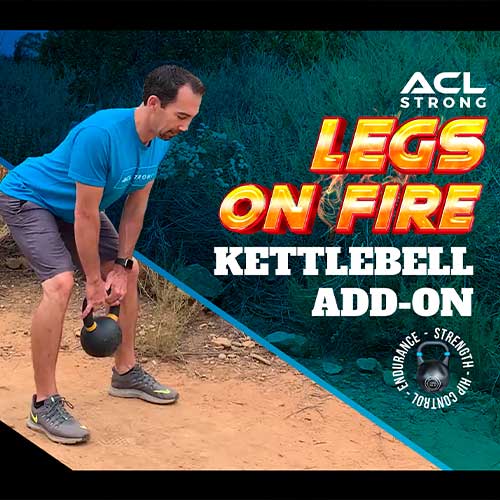 You already workout. You lift weights. You do cardio. Now, get your heartrate up and muscles burning with the new Legs On Fire Kettlebell Workout that can meet you wherever you are in your fitness level and desires.
When you sign up for the ACL Strong Snow Course, you get instant access to the 8 bulletproofing modules with videos and exercises that will get you on the right path to being stronger on and off the mountain in as little as 6 weeks!
The value of this training is worth thousands!
(Not to mention the money you save by avoiding doctors appointments, surgeries, or even a lost-paycheck.)
Now, You Have A Choice to Make…
First, you can choose to do nothing and ignore this preventative exercise...
and your lifestyle will gradually start to slip away. Start the timer.
The other choice is to be proactive and take care of your knees now (the #1 most frequent and most expensive injury), no matter what state they are in, and
join the most-trusted injury prevention and performance program in the industry, for life.
ACL Strong has already proven to be incredibly valuable to thousands of other ski and ride pros, and is endorsed by the biggest organizations, from PSIA-AASI (Professional Ski Instructors of America and American Association of Snowboard Instructors) and NSP (National Ski Patrol) to USCSA (United States Collegiate Ski and Snowboard Association, Vail Resorts, and reputable insurance companies.
It's time to take your future into your own hands, so you can keep enjoying the lifestyle that you're so lucky to be a part of.
Your Most Popular Questions... Answered!
Below is a list of the most common questions that I have been asked. If you have a question that isn't on this list, and you'd like it answered before joining ACL Strong, please send an email to our team at admin@aclstrong.com and we will be happy to give you the clarity you need to make your decision.